Do You Want customized Superhero Character Design Illustrations?
At Eminence System, we can create character design illustration according to your choice. If you want a customized character that resembles you, your friends, and your family, give us a chance to turn your wish into reality.
We even create superhero characters for comic books also. Our expert illustrators can make designs just as you want.
Superhero Character Design
Science-fiction and fantasy have ruled over the entertainment genre for some while, and now people are deeply in love with these fictional characters. The most famous and even more attractive among these are superheroes. Due to all the Marvel and DC fights these days, everyone is in these superhero characters like never before. Even the craze for comic books that contain such superhero characters is unbelievable.
These days, teenagers want customized superhero character design illustrations for decorative purposes. They are also used for other purposes such as mascots for companies or industries or even teams (school, colleges, and official sports). The illustrations of these superhero characters are hugely on demand for gifts on occasions or card games.
Do you want an illustrator to make character design illustrations?
However, finding a proper place to get these made, is not an easy task. Not every place or agency can create a customized character design illustration. Even if they create such characters, the outcome does not match the customers' wishes.
We know that you want your character to be just like your imagination. You want it in your favourite pose, your favourite form, and in your favourite place with its superpowers. Unfortunately, it is not easy to get accordingly.
But, but, but, don't look further. Eminence System can work exactly how you want, how you wish, and what you need your superhero characters to be
Get your favourite superhero character's illustrations in comic style

Exciting superheroes in custom poses.

Pro customized concept superheroes.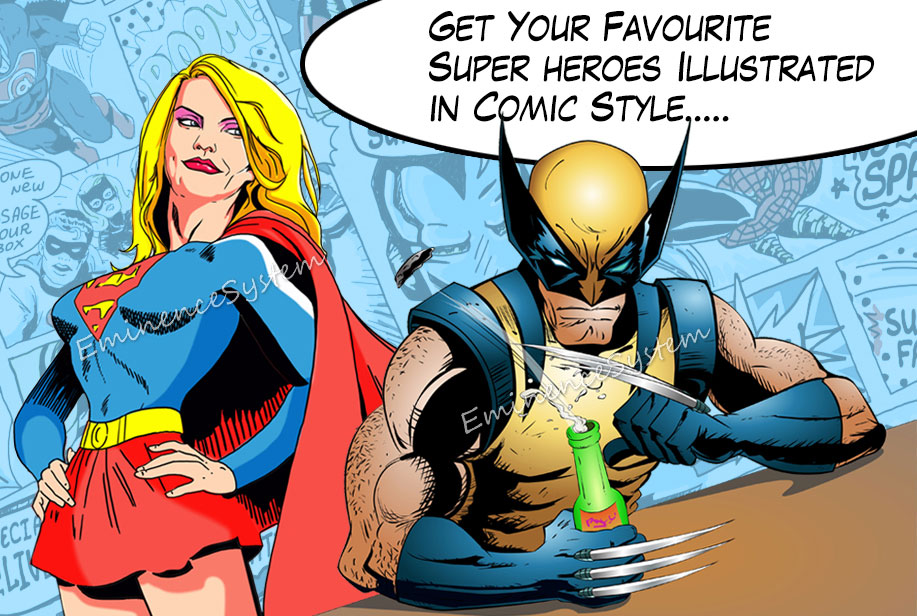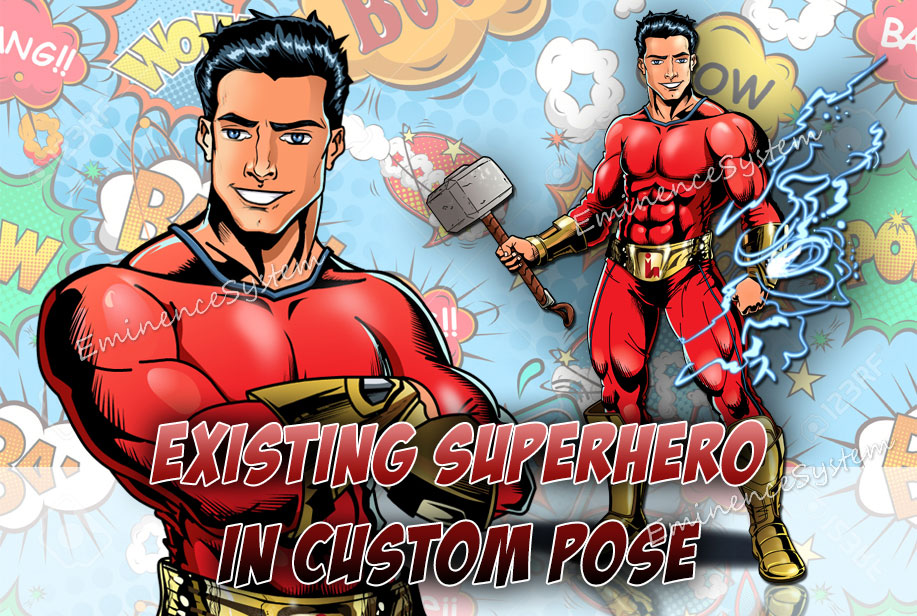 The experts of Eminence System can make custom superhero character design illustration. We make these characters just as you want. You just have to bring us your required poses, superpowers, even photos, and we would make the superhero characters based on your requirements.
Our premium memberships also offer to make superhero characters from your photos. You can change the person's physical appearance and designs of clothing, and discuss them with our expert illustration designers so that they can arrange to make it considering your taste. You just tell us how the character should look.
We know that there are a lot of Marvel and DC fans out there fighting for their favourite Marvel or DC world. They want superhero characters from their favourite imaginary world. So, if you are a Marvel fan, we can add your character in the Marvel world, and if you are a DC fan, then we'd make it in a DC world. Then you can flaunt your favourite character in front of your friend who is a fan of the opposite side and make him/her jealous. Isn't it super joyous?
We not only take care of the characters of your favourite world, but if you have a certain background in your mind, we can also work on that. If you want the superhero characters with a background and you do not have a clue what it should be, we can suggest you some. If you know what type of background you want, you just have to inform us, and we will do that according to your wish.
Besides backgrounds, we can also manage if you want your superhero with its superpowers. We can find a way to depict these superpowers in the character through our expert designers' imagination and creativity. And along with the background and superpowers, you can also choose a pose for your favourite character. Do you want it in a fighting pose, a heroic pose, or any other pose? You will get it as you wish. Apart from all these, if you have any other preferences, you can share those too. We will give our best to bring your imagination into reality.
Styles
Marvel or DC characters in Comic Style

Superhero portraits with Real Human Face
Details we need
Your Superhero Character's details

Dress Code, Character Pose

Any special weapon or superpowers.

Individual images for Superhero portraits
Salient Features
Unlimited Change Requests

Use of Premium Colours and Unique Style
We put 100% efficiency to maintain the standard of our works. This is why we have our clients from all over the world. Our experts can manage hundreds of children-friendly art styles to impress the readers.
Now publishing a comic book with your favorite or customized superhero characters' illustrations as you have visualized in your mind is just a call away.
So, what are you waiting for? Contact us now to access our astounding services at a super affordable price. Still, if you do not find our work satisfying, we guarantee you your money back.