Specialization in tattoo illustrations solely indicates many styles of tattooing. Before making a tattoo on someone's body, the most important thing an illustrator needs to do is to pen a unique tattoo illustration with the help of various art styles. Some tattoo illustrators prefer penning an illustration following one style, while on the other hand, some prefer combining two or more art styles to create a distinctive illustration for tattooing.
In this blog, the expert illustration designers of Eminence System are going to disclose various styles for tattooing.
Abstract tattoo style
Abstract tattoo designs generally refer to those designs that do not have a particular physical form. But at the same time, these designs have allegorical meanings and convey significant messages.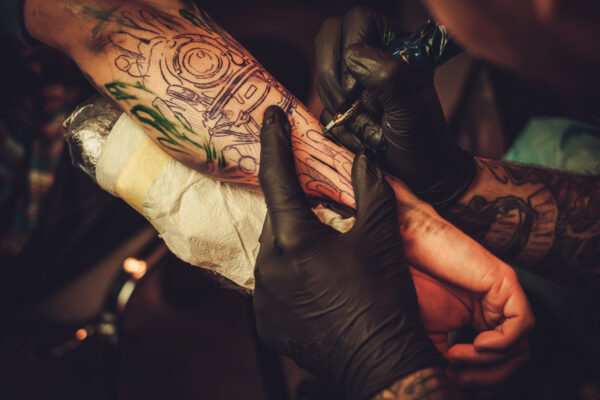 Trash polka style
It is one of the emerging styles of making tattoo illustrations. Trash polka combines conventional art style with realism. Tattoo illustrators these days, are experimenting with this particular style with different colors, elements, and designs.
Blackwork tattoo style
Blackwork, as the name suggests, is solely done with black ink. This very tattoo illustration style is mainly influenced byancient tribal tattoos. Blackwork tattoo illustrations possess some extraordinary aesthetic features. Illustrators prefer making experiments upon blackwork with other styles, such as dot-work, abstract, etc.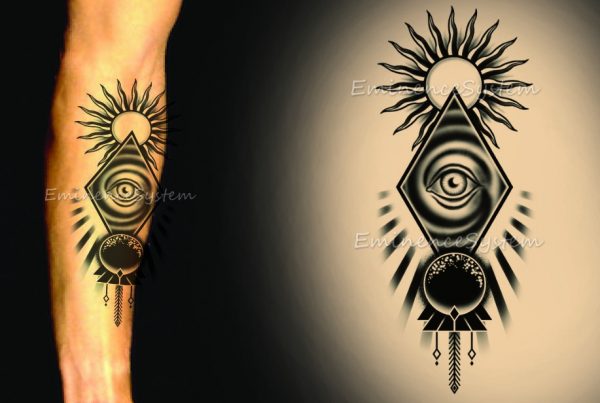 Black or grey wash style
This is another highly experimental style of tattoo illustration. Mainly, black, white, and grey colors are used to picture this kind of illustration. Hence, the illustrator needs to illustrate the design accordingly, considering this fact.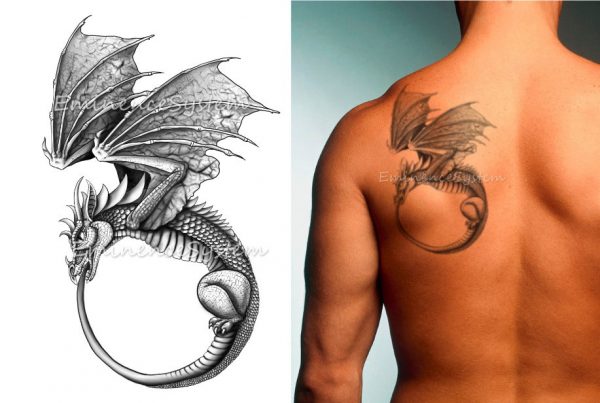 Shadow style
If you are looking for a tattoo illustration that has a minimalistic approach, and yet is very much intensive, ask your tattoo designer to illustrate a shadow style illustration for you. Shadow-style tattoos are created by combining the blackwork along with the grey wash style for tattooing.
Brushstroke
Expert illustration designers can make a beautiful piece of artistic tattoo illustration that is called the brushstroke tattoo style. Modern tattoo enthusiasts are appreciating this tattoo style abundantly. This is mostly done in black inks. Henceforth, the design is illustrated accordingly.
Watercolor tattoo style
The eponymous tattoo style gets illustrated in such a way that it seems like a painting on someone's body with the help of brush and watercolor. This experimental tattoo illustration tends to look like the colorful version of the brushstroke tattoo style.
Dot-work
Unlike other styles of tattoo designs, dot-work tattoos are done solely. using uncountable individual dots to make a complete tattoo design. In dot-work tattoo styles, abstract, blackwork, realism illustrations are applied to make a meaningful portrayal for tattoos.
Illustrative style
Another aesthetic style of tattooing. Just as its name, illustrative tattoos look like the illustrations in the storybooks. This style is extremely generative and expressive that helps the illustrator to illustrate remarkable tattoo designs.
Along with these above-mentioned art styles, there are a bunch of creative tattoo illustration styles. Get in touch with the expert illustration designers of Eminence System, if you are looking for custom tattoo illustrations at a pocket-friendly price rate.